When making your baby registry, it can seem like babies need a stunning amount of items. You may wonder, "do I really need this?" We've compiled a list of the best changing table of 2018, so you can decide which is the best changing table​ to buy to make your life a little easier.
Some parents decide to go without a changing table and just use a changing pad on a bed or sofa. However, you may find that a changing table is really helpful to have, especially in the early weeks as mom's body is still recovering from birth. Additionally, it can give you a place to organize all your diapering items.
Plus, when your baby outgrows it, you can use it as a dresser if it has drawers, toy storage if it has shelves, or however you see fit!
If you have the space, we recommend using a changing table, especially if you are having multiples and are likely to have a Cesarean section. Here is our compilation of the 5 best changing table of 2018 contenders with links (in case you were wondering where to buy baby changing table products):
The 5 Best Changing Tables of 2018
1. DaVinci Jenny Lind Changing Table
We love the vintage spindles and open shelves on this simple but elegant changing table.
​

We love that this changing table has a unique look, just be wary of the type of storage baskets you use with it, as they may scratch the shelves.
Has a matching crib to complete your nursery.
---
2. Delta Children Infant Changing Table
Simple, modern, and affordable. This is your basic changing table that comes in multiple colors to match your nursery furniture.
This is a no-fuss design that is easy to assemble and would look great with matching or unmatching furniture.
This is a simple, good quality changing table. You can easily store toys on it when baby outgrows it.
Get creative and organize as you like with pretty storage bins.
---
3. Natural Diaper Corner Baby Changing Table
If you are not sure if you have enough space for a changing table, consider a corner changing table! This changing table is set up so that baby's feet point towards you as you change him.
This is a great changing table for small spaces. It comes in three colors.
​

We like the unique architecture of this changing table. It would look great as a toy shelf or media storage when you no longer need it as a changing table.
Ships free from Target.
---
4. Simmons Kids Monterey 4 Drawer Dresser With Change Top
This is a gorgeous dresser with a removable changing top. It's a bit pricier, but you also get your money's worth since it doubles as a regular dresser.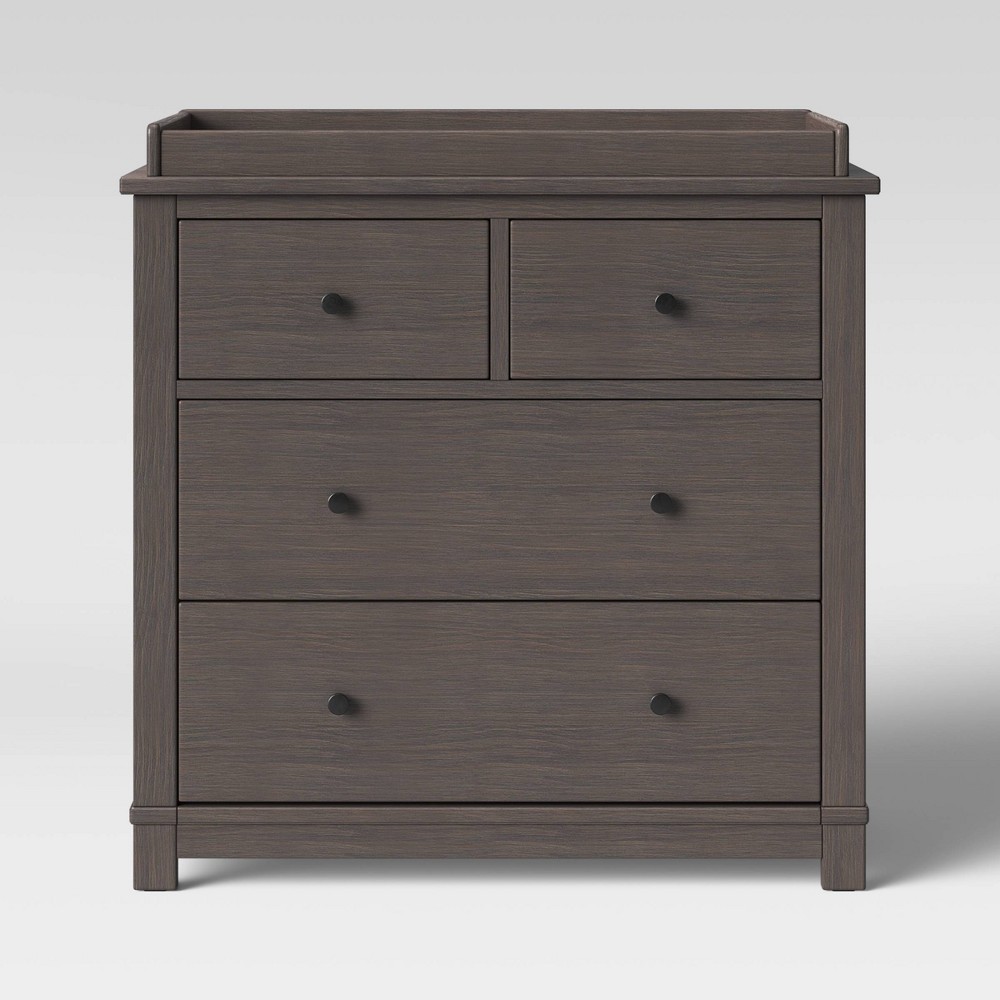 The rustic style is very modern and trendy, especially with the matching infant furniture set like bookcase and crib to complete your nursery's look.
​

You often get what you pay for, and we think this changing table is a great investment. It's well made and looks beautiful as a dresser when baby outgrows the changing top.
Ships free from Target.
---
5. Savannah Changing Table
Cozy and thoughtful, this changing table has several features that we love!
If you can't decide between drawers or shelves, this changing table offers the best of both worlds! They even have matching kids furniture if you transition into using it as a dresser.
Value Note
This changing table is very practical. You can store some clothes for your baby in the drawers while still keeping your diapering items readily available on the cubbies. It's also very pretty!
Have a hammer on hand for assembly! Also ships free from Target.
---
Conclusion
Convenience is in the eye of the beholder, so consider how it will be easiest for you to change your baby. New products come out all the time, so we hope this compilation was helpful for you to see the best changing table of 2018! What do you think? Do you like shelves or drawers for your changing table? Let us know in the comments below!