As a mother of three you'll encounter three times the diapers, and three times the smell. Many parents have turned to cloth diapers to cut down expenses and waste, but cloth diapers come with a much stronger aroma. We're here to help you find the best diaper pail for cloth diapers so you can love everything they have to offer.
The Top Rated Diaper Pails for Cloth Diapers
Are Diaper Pails A Necessity?
You can make it through your diaper changing routine without a pail, but you are going to regret it. Parenting is relentlessly busy, and it's likely you won't have the time to take the diaper to the wash. Pails allow you to temporarily dispose of them until you can make time for laundry.
Without a pail you're going to have one stinky room, or you're going to be making your way to the store to get one.
If you're new to cloth diapers in general, take a look at this great video showing you the different types of cloth diapers.
Are All Pails the Same?
Most pails are similar, but some are designed specifically for cloth diapers.
Wet Pails - Wet pails are pails filled with water [by you] to presoak soiled diapers before you get them to the wash. Some parents even add essential oils or vinegar to the water to help with this process, and to reduce odor.
Dry Pails - These are the traditional pails in which no water is added. They often have a liner inside to hold the dirty diapers, which you empty when you're ready to wash.
Both pails can be efficient, and both have advantages. You can also combine the function of both by rinsing the diapers under water before placing them into the dry pail. This way they soak before laundry time.
With that in mind, let's find you the best cloth diaper pail.
Best Diaper Pails for Cloth Diapers
1. Decor Classic Hands Free Diaper Pail
This particular diaper pail is perfect if you're looking for something traditional. Its sleek minimalist design will blend well with any nursery, and it's a great dry pail option. Of course, the best part about this one is the hands free component!
Despite the claims of a triple action odor control, the biggest complaint among parents is the smell. It appears that this particular pail holds diapers well, but unfortunately doesn't contain the odor that none of us want to revisit.
---
2. Ubbi Diaper Pail
​Slightly pricier than other pails, the Ubbi is a contender when it comes to the best diaper pail for cloth diapers. It's made from steel, which is meant to completely eliminate odor-related concerns, and erase the need for liners.
The Ubbi undoubtedly pops up when you search for the best diaper pail for cloth diapers review. It works wonderfully, and parents adore it. This pail will contain the foul smell until you finally find time to make it to the wash.
---
3. ​​​​​​​​Munchkin Step Diaper Pail
Munchkin is a brand well-known for their reliable baby products, so it's no surprise they also have a diaper pail. The main focus of this pail is to eliminate the odor aspect of all those dirty diapers, which is evident in its Arm & Hammer odor-absorbing puck.
This pail has a lot to offer, and those who have taken a chance on it have been pleased. It gets the job done until you're able to wash your little ones' diapers. The puck included also smells like lavender, and who doesn't like lavender?
---
4. Playtex Diaper Genie Complete Diaper Pail
This is likely the most well-known diaper pail on the market, often referred to as "the diaper genie." At an affordable price, this popular option could be considered the best trash can for cloth diapers.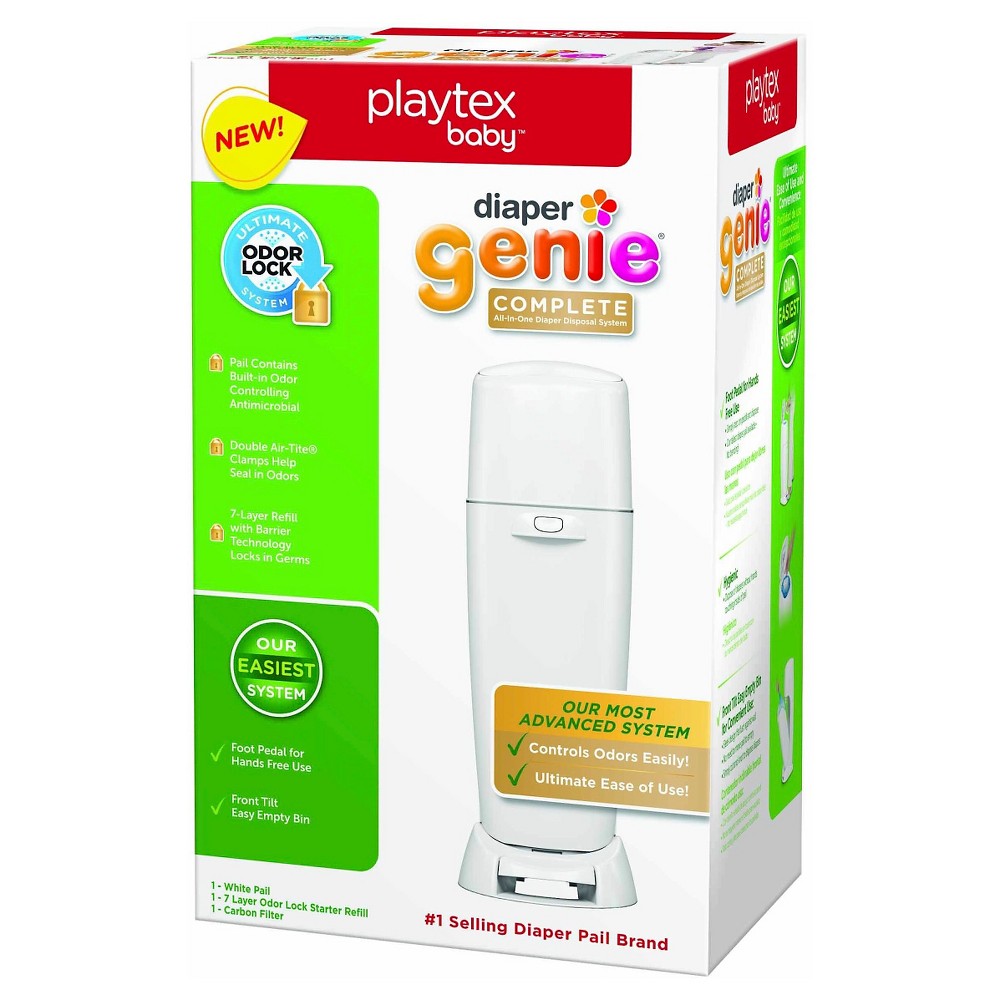 The Diaper Genie has incredibly mixed reviews. The largest complaint being the lack of odor control. However, it seems parents continue to purchase it regardless, which is likely due to its ease of use.
---
5. Planet Wise Wet/Dry Diaper Tote Bag
This is not your ordinary diaper pail, but this bag might just replace yours. It may even be the best diaper "pail" for cloth diapers. It can store your clean dry diapers, and the soiled dirty ones in another section. It's a great option for moms on the go as well!
If you're searching for an alternative to the traditional pail, this is your answer! Parents rave about this bag, and it's an incredible product for those using cloth diapers. You won't regret adding this bag to your collection.
---
Conclusion
It's difficult to say which is the best diaper pail for triplets with so many incredible options to choose from. However, any one of these could easily win that title, depending on your preference. Life with triplets may be a tad easier once you find the best diaper pail for cloth diapers.